Microsoft is one of the biggest tech companies out there, with one of the better interview experiences you'll encounter. It looks amazing on the resume and can open doors previously closed.
To help you out in getting hired at Microsoft, we've gathered information about the Microsoft hiring process from current and former Microsoft employees in technical roles. They've given us valuable tips about the way Microsoft chooses its candidates and how its interview process works.
With this step-by-step guide from applying to getting an offer, you'll see exactly what is needed to get hired at this tech giant, how to prepare, and what to pay attention to.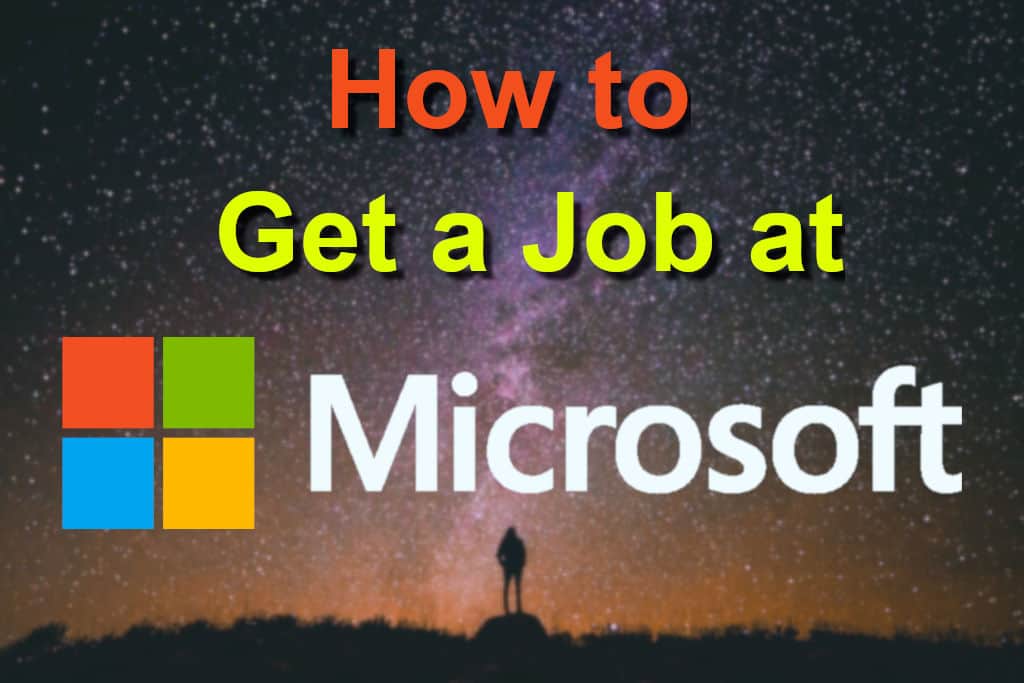 How Hard Is It to Get a Job at Microsoft?
Being one of the biggest tech companies out there, it's not easy, but it's not as difficult as some people believe. In the last few years, more and more people are reporting average and easier interviews than just 3 or 4 years ago.
Whether it's because there are more resources out there to prepare, or because people who report this are mostly the ones who got accepted, it's difficult to tell. One thing is for sure – you can increase your chances by preparing for the interviews, as well as optimizing your resume, and knowing what to expect.
First, pro tip: Networking events can be golden tickets. Attend Microsoft's local tech talks, webinars, or career fairs whenever they come to town – they often provide unique insights and the opportunity to get your CV in front of the right eyes.
What kind of employees is Microsoft looking for?
Microsoft is looking for candidates with an inclination towards technology, a strong desire to learn, good technical skills, and high intelligence. Nothing surprising there, Microsoft is looking for the best of the best, but not necessarily. They also want you to have decent soft skills, and to fit in the team.
How can you take advantage of this? Mentoring or joining tech community groups related to Microsoft technologies can give you an edge. Not only will you expand your knowledge, but showcasing active involvement can also set you apart during the screening process.
What skills and qualifications does Microsoft value the most?
Qualifications Microsoft will look for will depend on the role and your technical field. The top skills for Microsoft include skills related to Microsoft Azure and programming, out of which the most sought-after are skills in C#, SQL, Microsoft Powershell, Python, C++, Java, and Javascript.
Degrees highly valued by Microsoft include Software Engineering, Computer Science, Data Science, and Computer Engineering. Other popular degrees at Microsoft also include degrees in Business Administration, law, business, math, and cybersecurity degrees.
Even though it's one of the metrics, your GPA won't matter much at Microsoft, so there's no need to worry about that. Furthermore, it's also possible to land a job without a degree, but only for entry-level jobs.
Tip: Staying updated with Microsoft's evolving technologies is paramount. Engage in continuous learning, perhaps by taking advanced courses on platforms like Pluralsight or Microsoft Learn, particularly in emerging fields like AI or Quantum Computing.
How hard is it to land an interview at Microsoft?
Considering Microsoft is one of the largest tech giants, getting an interview at Microsoft is an achievement in itself. Meaning, it's not easy. Difficulty in getting an interview depends on various factors: 
your relevant experiences,
whether you have a referral on the inside, 
whether you know the hiring manager personally,
and how well you crafted your resume.
Don't let the waiting game demoralize you. Use the interim to brush up on potential interview topics, or even reach out to current Microsoft employees on platforms like LinkedIn for genuine insights – just be respectful of their time.
How Long Does It Take To Get Hired at Microsoft?
Microsoft recruitment process takes about 4 to 6 weeks on average to finish, and this includes everything from sending in your resume to finalizing a job offer. However, since Microsoft is a huge corporation with many different parts and hiring teams, your times may vary.
Applying at Microsoft
The application process at Microsoft begins by sending in your resume to be processed by Microsoft HR. The time for your application to get processed can vary from a few weeks to a few months, with a 90-day limit to hear back in the form of a rejection email, or by setting up an assessment test or a phone screen.
A decent portion of Microsoft applicants go either through a recruiter or have a referral on the inside. This doesn't guarantee a job, but if you know someone it can't hurt to ask. Referral can sometimes get you an interview, which means getting your foot at the door.
Personal introductions are the best, and if you can get in contact with the hiring manager directly, it's a huge thing. If your recruiter or a referral knows the hiring manager, then the best thing you can do is to get them to introduce you. Then, when applying, send either a cover letter or an introduction email to the hiring manager.
LinkedIn can be more than just a CV repository. Try engaging with posts by Microsoft hiring managers or HR personnel. A thoughtful comment or two can help you stand out even before your resume hits their desk.
A cover letter is not usually needed for Microsoft, because most of them get skipped. However, there may be a few reasons why you might include a cover letter, for example, if you know there's a high chance it might be read by the hiring manager, or you can include supplemental information that is relevant.
Microsoft job positions
Microsoft is a huge company, with many different parts needing all kinds of employees having wide range of skills and experiences. Since GoTechCareer is about tech space, focus on those looking for technical roles, so here are some of the common technical positions at Microsoft:
While these are often encountered when looking for Microsoft job opening, there are dozens of different roles you can apply for, from entry-level to senior levels. You can check out Microsoft jobs by profession, by location, or simply by typing in the field on the Microsoft Careers page. 
Pro tip: Remember to research the team you're applying to – their recent projects, technologies they use, or papers they've published. Tailoring your application with this knowledge showcases dedication and can often make you a memorable candidate.
Microsoft levels
For the main technical roles, there are two tracks and 24 job levels at Microsoft.
The two tracks are the Technical track and the Management track. For each of these tracks, the job level starts at 57 and continues up to 80. The lowest levels are for interns and trainees, and the highest ones are for the most experienced professionals.
For these tracks, Microsoft has three main technical disciplines: Software Development Engineer (SDE), Software Development Engineer in Test (SDET), and Product Manager (PM). All three paths have similar levels, presented below.
Here are what Microsoft levels look like:
Level
Job Title
Average Experience
Average Base Salary
57
Intern
No experience
$60-100k
58
Contractor
Varies by role
$50-100k
59 – 60
SDE, SDET, PM
0 to 2 years
$110-120k
61 – 62
SDE 2, SDET 2, PM 2
2 to 5 years
$135-150k
63 – 64
Senior SDE/SDET/PM
6+ years
$160-190k
65 – 67
Principal SDE/SDET/PM
10+ years
$200-240k
68 – 69
Partner SDE/SDET/PM
14+ years
$250-300k
70 – 79
Vice President,
Distinguished Engineer
20+ years
$320-400k
80
Technical Fellow
25+ years
$400-450k
Most graduates start at level 59, while the lower levels (57-58) are generally used only for technical trainees and employees with unusual backgrounds. Some graduates (often masters students) can start at level 60, which is equivalent to 6 months to 1 year of experience. When negotiating for a higher starting level, come prepared with evidence of past achievements, responsibilities, or certifications that make a compelling case for why you deserve the higher designation.
Other technical positions such as operations, research, or customer support all have their own levels, but their levels vary across product groups.
You should try to apply for those levels you are most suited for based on your skills, and qualifications. You may also be able to negotiate to start at a higher level, basically guaranteeing a higher base salary.
Microsoft Internship
Microsoft offers a lot of internship opportunities for students.
By interning at Microsoft you'll get the chance to learn from some of the most talented people in the tech industry, as well as the most experienced ones.
There are several ways you can get a Microsoft internship. You can apply directly for their internship openings, or you can try one of their programs. The main one is Microsoft Explore, a 12-week summer internship program, and the other is Microsoft Aspire, a two-year learning experience at Microsoft for recent graduates.
The easiest way to get an internship at Microsoft is to go to a school or University from which Microsoft regularly recruits, such as the University of Washington or the University of Illinois, or Carnegie Mellon University.
If you're at a non-target school for Microsoft recruitment, consider joining tech or coding clubs, or even better, starting one, to catch their attention and boost your resume. It's also a good idea to attend their on-campus events or webinars to network and get a deeper understanding of what they look for in candidates.
Microsoft resume tips
Whichever way you choose to apply at Microsoft, you should first improve your resume. Here's what Microsoft hiring managers prefer:
have a simple and clean layout that's easy to scan
avoid listing too many of your skills
focus on those skills that are relevant to the job
include keywords from the job description
quantify your impact on the previous jobs
You may think your resume is fine, but there are many things you can do to optimize your resume for Microsoft and increase your chances significantly.
Microsoft Interview Process
Microsoft interview process includes 4 to 5 interviews total, including the screening test, and behavioral and technical interviews. The entire interview process lasts several weeks but can be finished in less, depending on the job level, HR speed, and urgency to fill the role.
Microsoft interview process for a technical position includes:
An assessment test (Codility or phone screen)
Behavioral interview (virtual, 1 round)
Technical Interview (virtual, 2-4 rounds)
Final 'As Appropriate' Interview
The interview process is more difficult than average for a big tech company. A survey from Comparably from a few years back showed that the majority of applicants describe the process as either 'average' or 'difficult', no one described it as 'very easy', and very few described it as 'easy'.
However, since then, the interview process difficulty at Microsoft seems to have dropped:
Pro Tip: Try a mock interview. A mock interview is a simulated interview you can set up with your friend. After your mock interview sessions, ask for detailed feedback from peers or mentors familiar with Microsoft's hiring process. Often, the perspective of someone else can spot areas of improvement that we might overlook.
Given the depth and breadth of technical questions Microsoft might ask, it's advisable to form study groups with fellow applicants. This allows for diverse problem-solving techniques, giving you a broader approach to tackling technical questions.
Most asked online assessment/phone screen questions
Based on our research for the phone screening test, the most asked questions are:
Tell me about yourself
Why Microsoft?
Do you have a favorite Microsoft product?
Specific question from your experience
To prepare for the screening test, check out our article on the phone screening test questions to understand this part in more detail.
Most asked behavioral interview questions
From the research we've done about Microsoft behavioral questions, we've gathered the most asked Microsoft behavioral questions:
Tell me about yourself
Why Microsoft
Tell me of a time when you had a conflict at work
Tell me of a time when you had to change someone's mind
Tell me of a time when you disagreed with someone at work
Tell me of a time when you made a mistake
When you took a risk at work
Some people might be asking what's a good way to introduce yourself in the Microsoft interview. One of the good ways is to mention your career path briefly, and then highlight your past skills and experience that emphasize your strengths that match the job description.
To prepare for this part of the interview process, be sure to check out our article on Microsoft behavioral questions and tips on how to prepare for them.
Most asked technical interview questions
During Microsoft technical interviews, you might get list trees, strings, dynamic programming, sorting, searching, backtracking, and all kinds of questions, but the major part of preparation is studying the LeetCode problems.
Here are the top 15 most asked Microsoft technical interview questions from LeetCode:
All of these problems can be found on YouTube to be understood better. For example, here's the Number of islands solution:
In order to pass the technical interview, check out our article about tips for the Microsoft technical interview. You'll get more insights into what to do, and a lot of useful tips to increase your chances of cracking the coding interview.
How to pass Microsoft interviews?
Preparing for the virtual interview involves a lot of things, from installing the app to testing your setup (it's virtual), and knowing what to do and what not to do. For example, whether you can cheat or type on the keyboard as you're solving your technical questions.
Microsoft suggests the following tips before and while interviewing:
If you're interviewing online, test your setup ahead of time.
Improve your resume, and review it so you know what's written in it
Don't overdress, be yourself, and be comfortable
Share your thought process as you answer or solve technical problems
Try to use the STAR(R) model when answering questions. This helps you create a structure during responses.
Create a vision where you want to grow within Microsoft, and share it with interviewers
Learn about the role you're applying for, as well as about Microsoft
Present yourself as a team player who's not afraid to ask questions, but don't overdo it. Pestering the interviewer to reduce the time they have will not get you hired.
Preparation is half the battle. If you take the time to review these steps and genuinely apply yourself and prepare, you'll increase your chances tremendously, and you'll make it easier for yourself to go through the entire process. You'll reduce stress, and you'll be ready.
During the virtual interview, ensure you have a backup device or internet connection. Technical glitches can happen, but being prepared demonstrates foresight and adaptability.
How long to hear back?
Typically, if they decide to extend you an offer, you should get one in one to two weeks at most, sometimes only a few days after. Sometimes, you might get an offer on your last interview at Microsoft, or your last roll-out meeting if interning. They might even ask for numbers, but this is a trap.
Job Offer and Background Check
Whether you're getting an offer after an internship or regularly applying for a full-time position, you should try to prepare for when the offer comes. First things first, never tell them your salary before they make you an offer. You can show how you're excited, but try not to show your cards.
Your initial offer may consist of these parts:
Base Salary
Initial Equity
Sign-on Bonus
Performance Bonus (optional)
General advice is to try to avoid accepting an offer on the spot. Unless you've already told them what you'll accept or what your price is, which is not a good thing to do, you should avoid settling on anything on the spot. Even making them a counteroffer on the spot is typically a bad move.
Even saying how their offer sounds great puts you in a bad spot, because you're making commitments before you should. The best thing to do for most people is to say as few specifics as possible during the meeting (or a phone call), say that you need to discuss with friends and family and that you have other options.
Microsoft's background check
Once the conditional offer is made, Microsoft will start its pre-employment screening checks which usually take 1 to 2 weeks to complete. The screening check includes the SSN check (or confirmation of identity), criminal history, education, employment, and global sanctions and enforcement check.
There's also a cloud background check for those providing online services in the United States for Microsoft. This one is very similar to what is already done, and you may be periodically rescreened for increased security.