There are many ways you can get into Microsoft, but whatever way you try to get in, you'll still need to apply the old-fashioned way and send in your resume.
Experienced professionals will have the highest chance of successful applications by going through a referral, as that may get you at least a screening interview. Going through a recruiter is also highly popular, with about 30% of current employees getting hired this way.
University students and graduates will find it less difficult, since Microsoft is big on recruiting from Universities and offering programs for current students, such as Microsoft Explore.
Here's what you can expect as you apply for a job at Microsoft.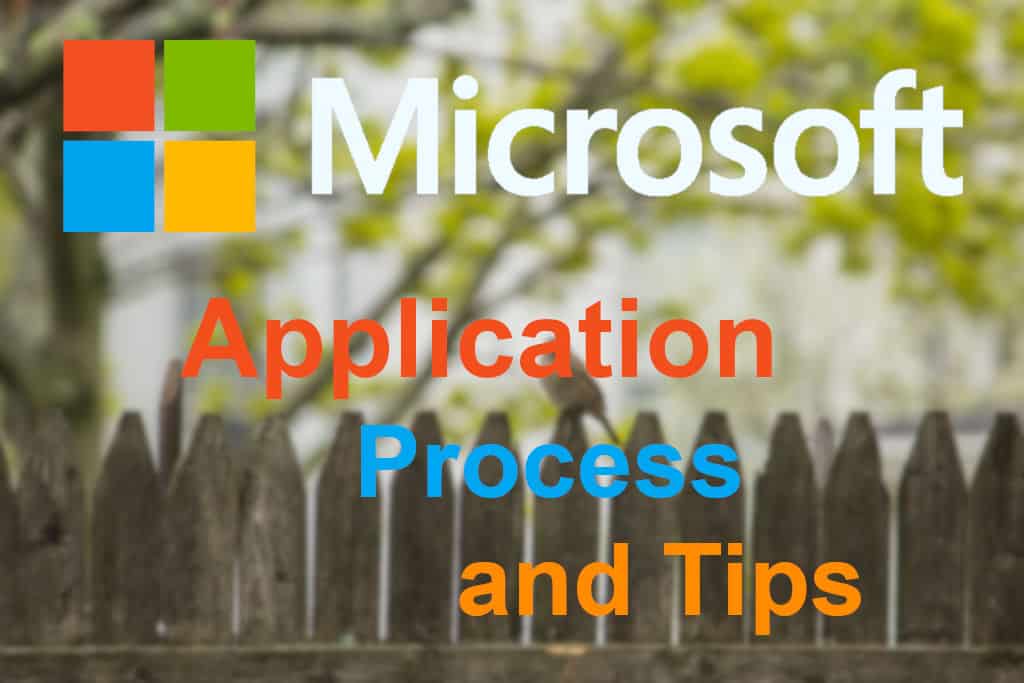 How to Apply at Microsoft
One of the obvious ways to apply for a Microsoft job is to go to Microsoft website and look for the roles or locations that suit you. There's an option for both graduates/university students, and experienced professionals, which you can select and then modify the filters for what you're looking for.
You have the option to search for the job by name, by profession, or location:
As far as internships go, Microsoft currently has about 130 open internship positions worldwide (50 in the US), and about 2000 job positions available across the US for those candidates with experience (more than 3300 worldwide).
If you're 1st or 2nd-year university student from the US, Canada, or Mexico majoring in a technical field then you are eligible to apply and join Microsoft Explore. This is a 12-week summer internship program where you can gain experience as you work your way towards a degree.
This type of internship gives you formal training and allows you to network and meet talented people, as well as potential recruiters or hiring managers that might get you hired someday.
While the Microsoft Explore program is indeed a golden ticket for tech students, make sure you engage in any pre-internship webinars or virtual events they may offer. These sessions often provide insider tips on how to maximize your internship experience and network effectively.
Joining Microsoft can be difficult, even with a proper degree and experience. Having Microsoft recruit at your school/university for engineering or computer science roles is one of the easiest ways to get your foot in the door. If you're at such a school/University, keep in mind you are among the lucky ones, so be sure to take advantage of that opportunity.
There's also a special US Military and Veterans program (MSSA) that offers specialized training and career guidance. Upon completion, you are offered an interview with Microsoft or its partners. There are also internships and onboarding programs for student veterans who are working towards a degree in the STEM field.
Another good, and often better way to apply, is to search for Microsoft jobs on LinkedIn. Be sure to fix your profile first, especially if you're going to use it as your resume. As you open the Microsoft company on LinkedIn, you can select "see all jobs" to get a list of all the jobs on LinkedIn which you can then filter by various criteria.
After finding a role on LinkedIn that interests you, engage with the post or any related Microsoft content, showing genuine interest. Demonstrating your activity and engagement in Microsoft's domain can subtly boost your visibility among recruiters or hiring managers who peruse your profile.
Best Way to Apply to Microsoft
According to a survey by Comparably, the highest success rate to get hired at Microsoft is by going through a recruiter or applying through an inside referral. While these are most common, the best option would be to have someone personally introduce you to the hiring manager.
Recruiters can do this if they know the hiring manager, therefore if you properly connect with this recruiter there's a chance they might be able to recommend you. It sounds easier than it is, but this is the best way to get hired at any company. Personal introductions are the best.
If you can't get a referral to connect you to the hiring manager, you can simply apply in the system, then send an introduction email to the hiring manager. This isn't normally done, but if you want to increase your chances, you'll need to do something different.
While this won't have much bearing on the interview itself, you'll at least get that interview, which can't be said for the great majority of applicants.
Having a referral is also a good way to have on your application, as it can get you at least a phone screen. Those applying for entry-level positions will find this method highly useful, especially if you lack experience. A referral means that someone on the inside, recommends you, and if you get hired within the next 6 months, they get a bonus and you get a job.
Ensure you maintain a relationship with your referrer even after they've submitted your name. Regularly updating them about your application progress not only keeps them in the loop but also allows them to possibly provide additional insights or advocate for you internally. Just do it tactfully, and don't bug them too much.
If you're looking for a software engineering position at Microsoft, then you should be aware there are certain levels for which you should apply. Keep in mind the levels:
Software engineer (levels 59, 60) – Usually for college graduates
Software engineer 2 (levels 61, 62) – Few years of experience.
Senior engineer (levels 63, 64) – With more than 5 years of experience
As you can see, each of these levels requires you to have a certain amount of skills and experience to be even considered. It's not a mistake to apply at the higher level, but you might get skipped if you do so.
Applying at Microsoft is the first step of the process, and getting an interview is difficult, but there are ways you can influence your success and increase your chances. I wrote an article on how to get noticed for a Microsoft job, with some instructions on what you can do to get yourself an interview at Microsoft.
How Long to Hear Back After Applying?
Usually, Microsoft should reply within a few weeks, but there's no guarantee that you'll be contacted soon, or at all. Microsoft is a huge company with many parts, so the response times and the length of the hiring process will vary based on the department and the hiring team.
If you applied through a referral, then you may hear back very soon. Sometimes people report that they heard back after a day by going through a referral, especially for Explore. However, there are no rules here and you could remain in the system for months. It all depends on the role, the ability of the recruitment/hiring team, and how urgently the role needs to be filled. 
If you find yourself waiting for feedback post-application, use the time proactively. Enroll in relevant online courses, like those on Microsoft's platforms (e.g., Azure, PowerBI), to augment your skillset and showcase your continual commitment to learning.
Does Microsoft Send Rejection Emails After Applying?
Microsoft does typically send rejection emails, however, it may take up to 90 days for a recruiter to review your profile or application. So, whether it be for regular employment or internship, if you haven't heard back from Microsoft in 3 months, you've probably been rejected.
Three months can be a long time for people to keep waiting for one company, so the best thing to do here is to keep applying to other companies. Unless you want to work for Microsoft specifically or have a lot of time (and lots of options) on your hands, it's best to keep moving and apply at other tech companies.
While it's tempting to solely set your sights on Microsoft, diversifying your applications can enhance your skill set and interview acumen. Participating in interviews with other companies can refine your presentation and technical discussion skills, making you even more prepared when Microsoft calls.
Typical Requirements Needed to Apply at Microsoft
We've written about Microsoft requirements in more detail, but in general, these are the most common requirements for a typical Microsoft job:
These are based on the most common Microsoft job openings and the requirements Microsoft is typically looking for.
Keep in mind that these requirements are just guidelines, and they're not set in stone. Obviously, it will depend on the job role you're applying for, but there is some flexibility in requirements, especially for entry-level positions.
Should you Include a Cover Letter for Microsoft Internship or Explore?
Should you include a cover letter when applying for Microsoft Internship or Microsoft Explore?
Well, it comes down to whether you're ready to go that small step for something that will most probably get skipped. Cover letters won't hurt your chances, they can only increase them. However, the big tech giants don't care that much about cover letters, regardless if you're experienced or a recent graduate.
While a cover letter puts a personal touch on the application, in the sea of applicants that Microsoft gets every month, it can seem redundant. However, if you know there is a chance your application will be looked at more closely, or you know someone personally, then this might be a good reason to include a cover letter.
In general, and irregardless of Microsoft, if you have nothing additional to say beyond the information already in your resume, then there is little reason to include a cover letter.